.I am a busy girl! Here's what's going on in my world...
Upcoming art shows:
Casablanca @ The Dancing Tree Studio
for the month of February 2011
Reception is 7:00pm - 10:00pm Feb. 6 Sunday expect exceptional live entertainment
Mixed Media Belly Dancer portrait collection will be on display.
Painting Demonstrations:
Every Tuesday & Friday from 9:30am - 1:30pm
@ Kohala Coast Fine Art Gallery
in the Kings Shops Waikoloa
Upcoming Bellydance Performances: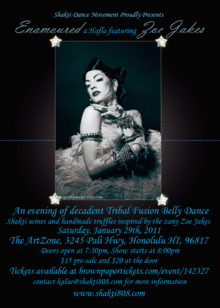 Enamored @ The ArtZone Honolulu 7:00pm - 10:00pm starring Zoe Jakes, Shakti Dance Movement
& me! among various others $15 pre sale/ $20 at the door
Rockstarz in old industrial Kona Feb.4 2011 8:30pm me & my girls (aka the "Special Guests") will be dancing to the live tunes of the sensational LECHE DE TIGRE band... as Dan would say: Ole!
CASABLANCA Open Stage
@ The Dancing Tree Studio Feb. 6 Sunday 7pm- 10pm FREE EVENT
AVOCADO FESTIVAL 2011 Saturday Feb.19th @ Keahou Beach Resort 10am - 4pm
PRIVATE ENGAGEMENT Feb. 25 8:30pm -???
Ongoing Bellydance Classes:
Wednesdays
@ The Dancing Tree Studio
WAKE N SHAKE 10:00am-11:00am
$10 to drop in/ $35 for the month
Thursdays
@ The Dancing Tree Studio
WAKE N SHAKE 8:15am - 9:15am
$10 to drop in/ $35 for the month
Fridays
@ The Dancing Tree Studio
FUN NIGHT OUT 5pm - 6pm
$10 to drop in/ $35 for the month
@Yoganics Studio
FUN NIGHT OUT 6:30pm - 7:30pm
$10 to drop in/ $35 for the month
Punch cards are available for those who want to come to class more than once a week:
$60 for 2x weekly @ The Dancing Tree Studio (any 8 classes that month)
$90 for 3x weekly @ The Dancing Tree Studio (12 classes)
Hope you are enjoying the new year- and hopefully you are also so busy that you didn't notice how neglectful I have been to my dear old blog ;-)